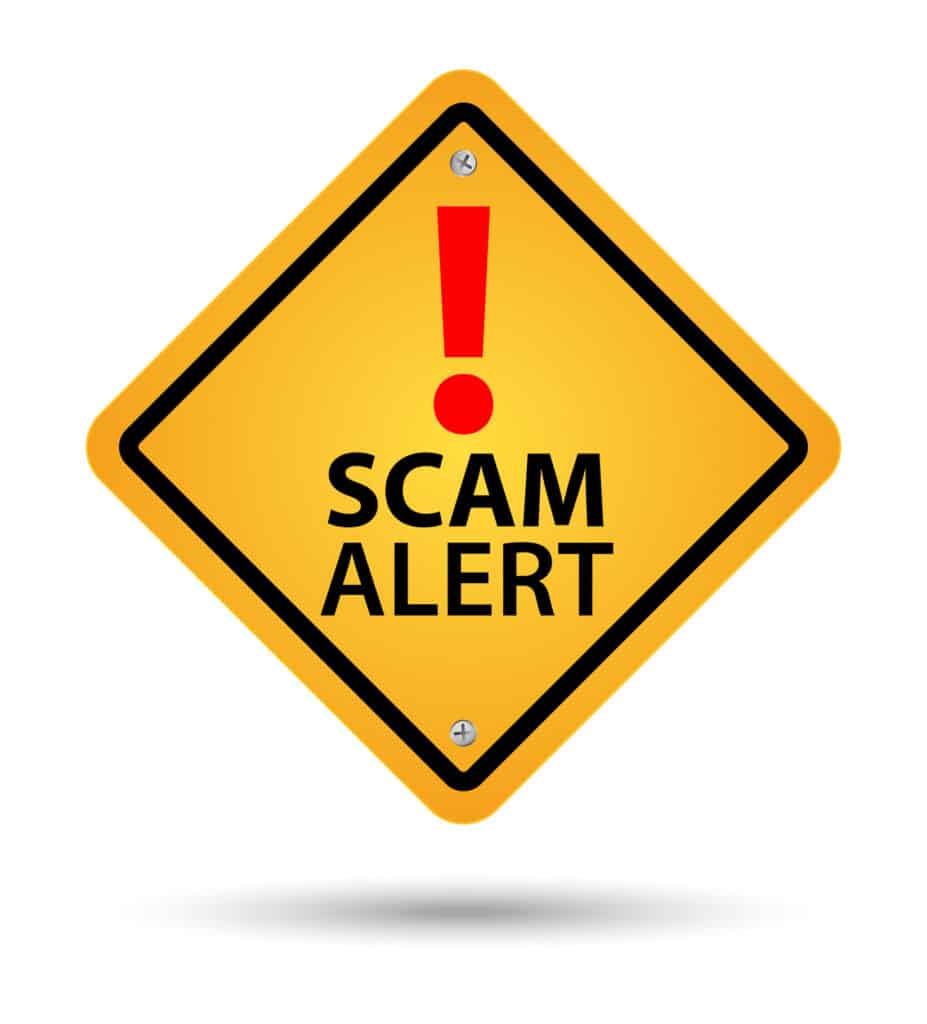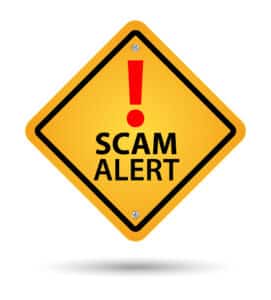 So, you receive a seemingly urgent message that appears to be from Facebook saying, "Your page will be permanently disabled for violating our terms of service. Click this link to confirm your account." Whatever you do, don't click on that link until you read through this blog! 
With an increase in phishing scams across all social media platforms such as Facebook, it's important to stay informed and vigilant to protect your account from getting hacked. Once scammers have control of your Facebook page, it's a long road to recovery. 
We're going to teach you how to be prepared in the event that you receive a mysterious message in your inbox from Facebook to avoid falling for these spam tactics. 
What is Facebook Phishing?
Facebook phishing is when an unknown scammer attempts to impersonate Facebook or Facebook Support to trick users into granting them access to their Facebook accounts, pages, or private information. They steal control of your digital property through the malicious links they share. 
These links may take you to a fake login page or website outside of Facebook where you share personal information to "verify" your account. In some cases, these links can also automatically grant page/account access to the scammers.
The Red Flags of a Phishing Scam Attempt
At first glance, it may be easy to think it's truly Facebook reaching out to you as the message may be labeled and signed by Meta, Facebook, or the Facebook Support Team. The message or email might also include a Facebook or Meta logo, and sometimes they even have credentials listed at the end of the message. 
Here are a couple of red flags to look out for:
Grammatical errors or misspelled words within the message. 
The logo looks pixelated.
The message demands money, gifts, or personal information such as passwords, social security numbers, credit card information, or threatens to delete or ban your Facebook account. 
The message includes a threat to disable your account/page.
It says "Another user account reported a problem with your page."
It mentions copyright infringement when you haven't posted any copyrighted content.
What to do if You Suspect a Scam Message
If your gut is telling you this seems like a scam and it has some or all of the red flags we mentioned, it most likely is a scam! Make sure you follow these precautions:
Do NOT click on any suspicious links.
Double-check the email/account you're receiving the message from. Facebook currently emails from fb.com, facebook.com, and facebookmail.com.
Do not respond to the message or share any personal information.
Report the message as a scam to Facebook.
If you truly want to play it safe and make sure your account is in good standing, you can always visit www.facebook.com or log into your Facebook app to check for important messages directly from Facebook in the home screen. If there are any actions you need to take for your account, they will alert you there.
If you only received a suspicious message on Facebook Messenger and there aren't any notifications in your Inbox, then it's highly likely that you're being phished. Here are some screenshots of recent phishing attempts: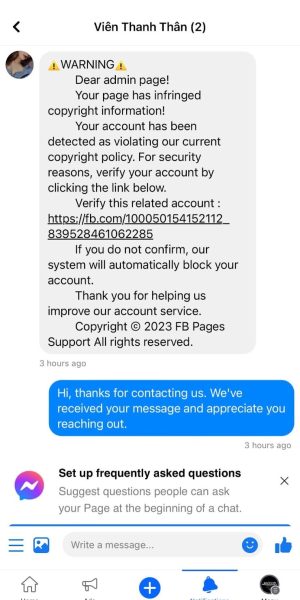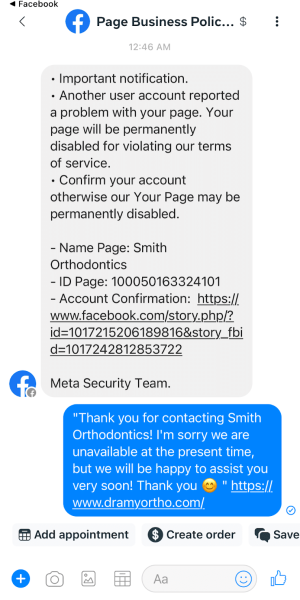 Steps to Protect Your Facebook Account 
Just as you advise your patients that prevention is key to a healthy smile, we believe prevention is also key to protecting your Facebook account. Here are some of our recommendations to safeguard your Facebook page/account: 
Enable two-factor authentication (2FA) on your Facebook account. This way, you can always monitor any suspicious attempts to access your account.
Use a strong, unique password for your account. (This is your sign to not use Smile123.)
Update your passwords regularly.
Limit the number of people who may have access to your Facebook account/page. We recommend having a single, designated account to help manage your practice page that your employees can access versus granting Admin access to too many different accounts.
Report any scams to Facebook immediately.
Your social media accounts are an important part of your digital presence and orthodontic marketing. As social media evolves, it's imperative to stay vigilant in the digital age to avoid your social media accounts/pages from getting hacked. If you know what to look for, how to approach potential scams and safeguard your accounts, you'll be protected from bad actors. Be sure to follow Kaleidoscope's social media accounts and subscribe to our newsletter to stay up to date!
Need help with your practice's social media? Get in touch with a dedicated social media team you can trust! Request a consultation here.