Our custom-built content management system offers a powerful technology-driven marketing solution to support medical practice growth goals. Additionally, Kaleidoscope is best-suited for demanding practices that are fast-paced and have high foot traffic with back-to-back-to-back clients walking through their office every day.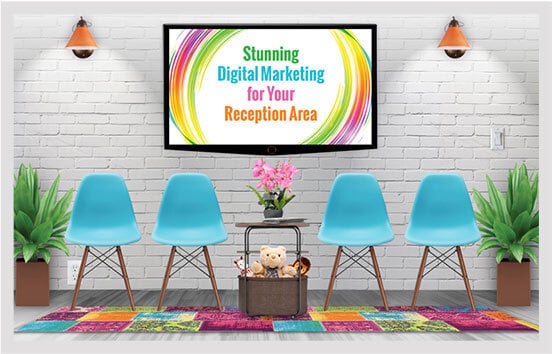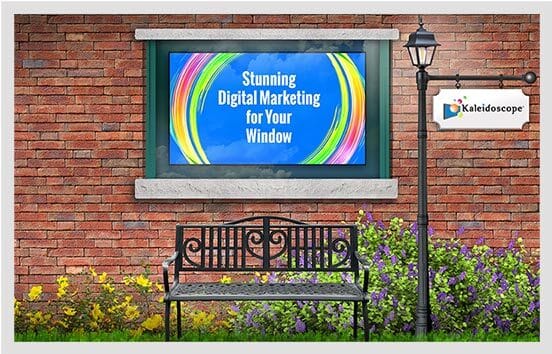 The soothing graphic elements built into Kaleidoscope eases patients and their natural tensions associated with doctor visits. It can help transform the mood of your staff as well as your in-office patients so everyone's in-person experience is positive, healthy, and happy. Kaleidoscope is also used on exterior digital signage to educate and engage passersby.
Our content manager is  a hi-tech digital solution and offers a large variety of preset layouts. Each graphic on-screen picture has been custom designed and includes images and content to fit the medical industry as well as your specific service and product offers.
Your personal content manager includes:
Complimentary initial customization (just plug 'n play)
Features your practice (team, social media, reviews, contests, services…)
Industry-specific educational information
3500+ professionally-designed layouts
50+ monthly auto updates of fresh content (trivia, life tips, nature…)
70+ seasonal/holiday layouts change throughout the year
Videos & feeds (YouTube, Facebook, Twitter, local weather)
Stunning graphics, photos, and videos
And much more….
Staff members can easily log into Kaleidoscope's content manager and create their own custom layouts without expensive or formal graphic arts training. Our on-boarding and training is free and you'll have a dedicated project management team who will help customize your content so it's hyper-local to your office and business growth needs and goals. 
You'll enjoy having stunning layouts ready to be used at the push of a button. Your entire team will have tools and technology and the freedom to make marketing your practice fun, easy, and painless!
Boost your office engagement with valuable marketing messages and enjoy positive and uplifting conversations and compliments from your patients!
Your team can easily set up our plug-and-play Kaleidoscope system in a matter of minutes. We'll help you every step of the way and you'll have your digital marketing and entertainment display up and running quickly. 
Look forward to enjoying all the benefits of promoting your practice and services to patients and their families!